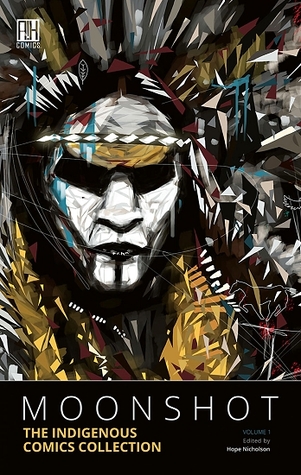 Moonshot: The Indigenous Comics Collection
Volume 1
Edited by Hope Nicholson
2015
176 pages, graphic fiction, speculative
Many many thanks to Alternative History Comics for providing a review copy, and to my mom for sending it to India for my birthday!
I have been meaning to add some graphic novels/comics to my blog for a while now (though I confess I'm a complete newbie to the genre!). When I saw this one advertised online, I knew that I had to review it. Why? Because my research area is
Indigeneity
, and I have been wanting to focus on Indigenous literature. So this is the first of hopefully many posts about Indigenous literature and movies, broadly defined.
Vision Quest: Echo
Ochek
Coyote and the Pebbles
The Qallupiluk: Forgiven
Ue-Pucase: Water Master
The Observing
The original version is told across the Pacific Northwest and traces out the experience of a hunter encountering Star People as they visit to observe the people during a hunt. This version is told as a visual narrative using Indigenous steampunk... How these beings come to observe us from their place of origin is protected knowledge and it is with great care that this story is shared. There are only a few accounts of the Star People, so this version serves as a true account of a traditional story that has not been seen before.
This story is told without words, and I am not quite sure what is going on. This is probably the point, since it is a protected story and should not be accessed by outsiders. I would be interested to hear other people's interpretations, because I didn't understand it.
Strike and Bolt
Siku
Home
Tlicho Naowo
Ayanisach
First Hunt
Copper Heart
I highly recommend this beautiful comics collection. Even if, like me, you have no background in comics, you will enjoy the diverse stories, gorgeous artwork, and high-quality writing. And, most importantly, you will be supporting the inclusion of fantastic Native American writers in graphic literature.
I am eagerly looking forward to the next volume of this collection.
Further Reading: