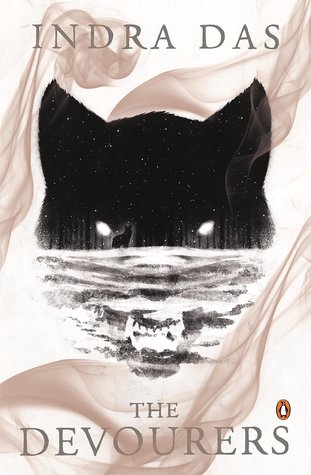 The Devourers
Indra Das
2015, Penguin India
344 pages, speculative, fantasy, historical fiction, LGBTQA+
Many thanks to Penguin India for providing a review copy of this book. 
In present-day Kolkata, Alok Mukherjee, a lonely history professor, meets a man who claims to be a werewolf. Well, a half-werewolf. Intrigued by this man and his stories, Alok agrees to do some work for the stranger: he will type a transcription of the stranger's handwritten translation of some old texts. What Alok finds in those pages continues to lead him into a world that he did not know existed - a world filled with supernatural beings, shapeshifters who live in tribes in every part of the world. According to his new acquaintance and the texts he transcribes, Alok comes to know that all the myths and legends that humanity has created are descriptions of these fantastic beings who are so different from us. Through this work and his friendship with the stranger, Alok discovers the complexity and simplicity of his own needs, leading him to let go of his lonely past and move toward a happier future.
What is in the texts? There are two, written by separate authors. The first is written by a Northern European shapeshifter known as
Fenrir
, one of three who have arrived in India during the Mughal Era, probably in the late 1630s. In a
caravanserai
in
Mumtazabad, the city of the builders of the Taj Mahal
, he meets a lone woman,
Cyrah
, a wanderer of Persian origin who is currently working as a prostitute. Instead of buying her time and body, he asks only for a lock of her hair. But then he returns that night and rapes her, intending to impregnate her with his child so that he can reproduce. Having sex with a human is taboo amongst the shapeshifters, and the resulting argument ends with the three-person pack breaking up.
The second text is written by Cyrah, lovingly addressed to her child, the product of this supernatural rape. In an attempt to track down her rapist, Cyrah joins forces with
Gévaudan
, one of his former packmates. Gévaudan is much younger than Fenrir, and has his own reasons for wanting to find his old friend. Cyrah wants to punish her rapist for what he did, and, perhaps, get him to take away the child that he gave to her. If, of course, he is a
djinni
like he claimed to be.
In the visceral telling of these stories, we uncover a tale of blood and love and sex and violence, one that will stay with me for years to come. Without hesitation, I can say that this novel is one of the best works of fantasy that I have ever read. It deals with difficult discussions of violence, gender, and love with a confidence that few writers can muster, especially in a debut novel.
As of this writing, it seems that Penguin has not released this novel outside of the Indian subcontinent. I hope to see it available in the US and UK soon. It would be very disappointing to see this wonderful novel confined only to South Asian readers, when the rest of the world needs to have access to it as well.