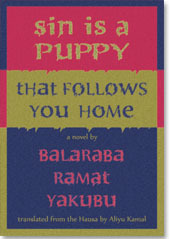 Source: Goodreads
Sin Is a Puppy That Follows You Home
Balaraba Ramat Yakubu
Translated by Aliyu Kamal (from Hausa)
Originally 1990, I read first English edition 2012
126 pages, social criticism, family drama, soap opera, pulp
Many thanks to Blaft Publications for providing me with a review copy of this book! 
In this book, I tell a story about a type of man found commonly in Nigeria who regards a married woman with children as a sort of slave to be bought or sold at the marketplace. These men think they may treat such a woman as poorly as they like, since they believe her to be completely worthless. They may be rich and comfortable themselves, yet refuse to feed and clothe their own families - while simultaneously denying anyone else the right to do so. - Author's preface
This short novel is the first example of the Hausa-language popular press to be translated into English. As such, it has the potential to introduce the reader to a world that they otherwise would never have realized existed.
Balaraba Ramat Yakubu is a Nigerian writer and filmmaker. In this book, as she states in the preface, she attempts to draw attention to a specific social phenomenon: men who neglect their wives and children in favor of spending money on themselves. I do not know how common this is in Nigeria, but the author's decision to focus on it indicates that it is (or was) probably more common than I expected.