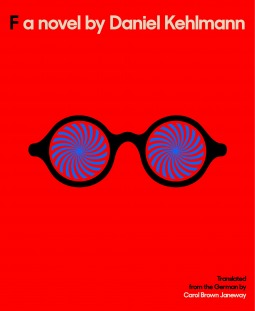 Source: Goodreads
F
Daniel Kehlmann
Translated by Carol Brown Janeway (from German)
2014, I read ebook version
208 pages, family drama, tragicomedy, adult siblings
When Arthur Friedland chooses to take his three teenage sons - the twins Eric and Ivan, and Martin (from a different mother) - to a hypnotism show as a bonding experience, no one could have guessed that he would be so influenced by the hypnotist's words that he would end up leaving his family that night and disappearing without a trace.
Years later, the three men have a complicated relationship with their now-internationally-acclaimed author father, who sometimes appears, checks on them, and then disappears just as suddenly.
Martin is a priest who struggles with overeating and doesn't believe in God. Eric is a successful businessman who actually has lost all of his clients' money and is cheating on his wife. Ivan is an art critic who has a secret: he creates the paintings that are supposedly the work of a very in-demand artist who died several years ago.
The brothers, each struggling with his own existential crisis, rarely see each other - and yet, on at least one day, their paths overlap.
To me, the most impressive part of this book was how the author managed to convey Eric's frayed mental state. He is so confused and anxious that he is constantly distracted; when he meets Martin after a long time, he isn't even able to hold a coherent conversation with him. Even though Eric's relationship with his twin Ivan is very strong, he chooses not to rely on it: in fact, Eric avoids contacting his twin brother because he knows Ivan understands him too well. If anyone finds out about how his life is going, it will all finally fall apart.
Ivan's story is also rather compelling: he is actually the artist who has created these famous paintings, but there would be no market for them if the world knew that he made them. While he is technically lying, it is sadly in his best interest to do so.
I quite enjoyed this book and how each of the brothers' stories fit together like pieces of a puzzle. It was clever. But I did not think the overall novel was particularly memorable, and I was very surprised to see it on the
official International Foreign Fiction Prize shortlist
. I would recommend it for when you want to read something clever but not especially brilliant.
See the rest of the IFFP shadow panel's reviews
here
.
Want to see more reviews of world literature and film? Follow me on
Twitter
or like my
facebook page
!