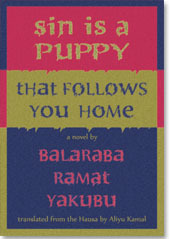 Source: Goodreads
Sin Is a Puppy That Follows You Home
Balaraba Ramat Yakubu
Translated by Aliyu Kamal (from Hausa)
Originally 1990, I read first English edition 2012
126 pages, social criticism, family drama, soap opera, pulp
Many thanks to Blaft Publications for providing me with a review copy of this book!
In this book, I tell a story about a type of man found commonly in Nigeria who regards a married woman with children as a sort of slave to be bought or sold at the marketplace. These men think they may treat such a woman as poorly as they like, since they believe her to be completely worthless. They may be rich and comfortable themselves, yet refuse to feed and clothe their own families - while simultaneously denying anyone else the right to do so. - Author's preface
This short novel is the first example of the Hausa-language popular press to be translated into English. As such, it has the potential to introduce the reader to a world that they otherwise would never have realized existed.
Balaraba Ramat Yakubu is a Nigerian writer and filmmaker. In this book, as she states in the preface, she attempts to draw attention to a specific social phenomenon: men who neglect their wives and children in favor of spending money on themselves. I do not know how common this is in Nigeria, but the author's decision to focus on it indicates that it is (or was) probably more common than I expected.
The story concerns one such man, Alhaji Abdu, owner of a market stall in the bazaar, his long-suffering wife Rabi and their nine children. Alhaji Abdu wears fine clothes and eats his fill of expensive food all day; his wife and their children barely have enough food to ease their hunger and only receive one new item of clothing every year. Rabi has only stayed with him for twenty-two years for the sake of the children. Although his relatives, friends, and neighbors continuously tell him that he should treat his family better, he ignores them and, in the greatest insult to Rabi, decides to marry a second time (to a woman who, unbeknownst to him, is a former prostitute who isn't ready to give up the fun).
When Rabi puts up a fight (pointing out that he doesn't even support the wife and children that he already has), he divorces her and throws her out, vowing to have no connection with either his wife or children ever again. Rabi and the children move into new housing, begin a small restaurant business, and make enough money to live comfortably for the first time. But when one of the girls has an offer of marriage, the family is at an impasse: the girl's father is supposed to make the arrangements for the wedding, but he refuses to have anything to do with them. How will the family figure out this situation, and will Alhaji Abdu ever realize what he's done wrong?
Women's rights
In addition to the main moral of the story discussed above, Balarama Ramat Yakubu's story demonstrates women's lack of power in Nigerian society. Men can take another wife whenever they want to. Although it is customary that they give their present wives presents to soothe the blow, the women are given no chance to express their opinion about the marriage. The women are then forced to take extreme measures to express their displeasure: running back to their father's house, asking for a divorce, screaming, fighting with the servants, etc. These actions are met with disbelief and annoyance, and looked down upon by relatives and neighbors. In this way, the woman is stripped of her autonomy and her reasonable concerns are treated as a trifling nuisance. I felt very sorry for the women who were thus replaced after being married to their husbands for many years.
While the overall view of women's rights in Nigeria as expressed in this book is dismal, there are a few aspects of the story that stand out. Rabi is a very strong person: amidst all this diversity, she does the best she can to give her children everything she can. When she is thrown out of her husband's house, she does not seem upset: it has given her the freedom she has craved for so long. While she goes on to make a thriving business, her ex-husband's life falls apart. By the end of the book, she is the one who has the power, and Alhaji Abdu begs her to take him back. It was refreshing to read about such a powerful woman in a pulp novel.
Blaft has again outdone itself by publishing a piece of enjoyable pulp fiction that reveals a part of society that the English speaking audience would never have been able to access otherwise. Bravo, and I hope to see more works like this in the future!
Further Reading
The first chapter
from another Hausa novel by a female Nigerian author from Words Without Borders
Click
here
to read my reviews of other Blaft Publications.
Want to see more reviews of world literature and film? Follow me on
Twitter
or like my
facebook page
!