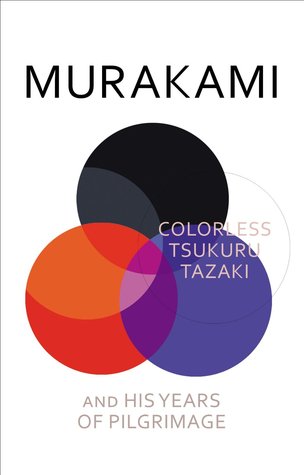 Source: Goodreads
Colorless Tsukaru Tazaki and His Years of Pilgrimage
Haruki Murakami
Translated by Philip Gabriel (from Japanese)
First published in Japanese in 2013, I read 2014 translation
298 pages, friendship, loss, grief, rediscovery
In high school Tsukaru Tazaki had four close friends, two girls and two boys. Except for Tsukaru, everyone's name had a color in it: Blue, white, black, and red. He felt a bit left out. But for years, until Tsukaru's second year in the University, the five of them were the best of friends.
That was when they suddenly banished him from their group, giving no explanation and cutting off all contact.
At the age of 36, Tsukaru is still drifting, unable to form intimate relationships. He lives in Tokyo and has a good job designing railway stations, something he has been interested in since he was a little kid. Then he meets Sara, a hard-working professional who wants to know about his high school life during their first date. Surprised, he finds himself opening up to her. His search begins - to discover what happened all those years ago, to meet his friends again, and to mentally heal himself so he can begin a new relationship.
This is the first Murakami book I have ever read and I absolutely loved it. I was very happy to see that it made both the shadow panel and official International Foreign Fiction Prize
shortlist
. I look forward to reading more works by Murakami in the future.
Simplicity and psychology
The first thing that stood out about this book was the simplicity of Murakami's writing. It is the easiest to read and most accessible of the novels from the International Foreign Fiction Prize longlist (much more so than, say Can Xue's
The Last Lover
). Compared with the other offerings, the apparent simplicity of the story and the writing were refreshing.
The simplicity of Murakami's writing style highlights the emotional intelligence of the narrative. It begins with an account of Tsukaru's depression and suicidal thoughts, the result of his friends' betrayal. Murakami describes Tsukaru's attitude during this period in a very realistic way. After a long time on the brink of dispair, Tsukaru pulls through it, ending up with no real friends and an emotional block - but alive.
I really appreciate Tsukaru's girlfriend's attitude toward his emotional problems. Before she will consider entering a more serious relationship with him, she insists that he work on his emotional insecurities. She will give him help and support, but the real work is up to him. Fixing his emotional baggage is not part of her job description. Nor does she want to be his savior. She just wants him to get his mind together before she gets more involved. This demonstrates a huge amount of emotional maturity that you don't often see in female characters. I found it immensely refreshing.
This novel emphasizes the importance of finding closure for psychological wounds. But, importantly, Murakami does not tell the whole story; he only points Tsukaru on the right path. There was another friend who disappeared from his life in college, but Murakami knows that it's not necessary to show everything. Healing psychological wounds is a lifelong process that does not need to be covered in a single novel. But at the same time it is evident that things do get better if you work on it. The simplicity of the writing and the storytelling make this psychological depth even more compelling.
This is a brilliant book about psychological resilience. I was very happy to see it on the IFFP shortlists,
both the official and the shadow panel ones
. I look forward to reading more by Haruki Murakami.
See also: all of The Globally Curious's
posts on the IFFP
and the collected
reviews of the shadow panel
.
Further Reading:
Want to see more reviews of world literature and film? Follow me on
Twitter
or like my
facebook page
!