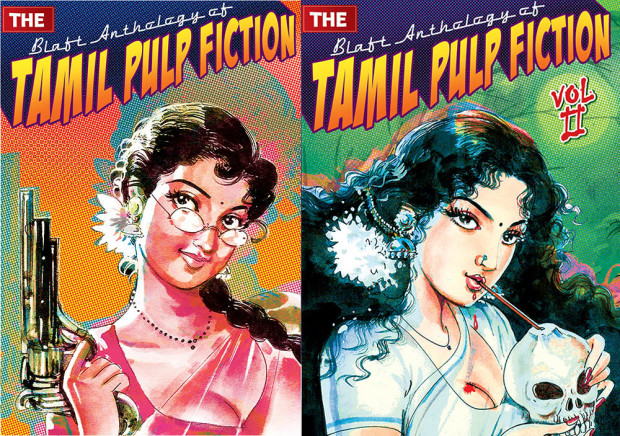 If you've spent much time browsing through this blog, you may have noticed how much of a
Blaft Publications
fan I am. This independent publisher based in Chennai, India specializes in translating the truly forgotten works of literature - the pulpy novels filled with violence, ghosts, detectives, curses, possessions, sex, drugs, and anything else that don't quite fit most people's idea of "quality literature."
The Blaft Anthology of Tamil Pulp Fiction
series is probably the best example of Blaft's unique selection. The first volume, featuring a wide range of short stories that are primarily detective fiction, was one of Blaft's first publishing endeavors. The second volume featured longer stories, including a complete novel by one of my favorite authors. I have reviewed both volumes
here
and
here
.
Now you can
help fund a third volume of this fantastic series via Indiegogo
.
It will reportedly feature (according to the Indiegogo page) a science fiction epic involving "a race of nitrogen-eating aliens, a disembodied brain, and extraterrestrial encounters with Bill Gates and Angelina Jolie"; another novel by
Rajesh Kumar
, the world's most prolific living novelist; two detective stories, one involving a psychic informant; and a story by Indra Soundar Rajan, my favorite Tamil pulp author, about a murder and a possessed girl. Sounds exciting!
And, of course, since this is crowdfunding there will be perks! $5 buys you an ebook copy of the published novel. For $8 (India) or $15 (international), you can get a print copy of the published novel.
For $300, Rajesh Kumar will write a novel starring you!!!! Unfortunately, it will be in Tamil, so you're out of luck if you can't read Tamil.
Unless you give them $600, in which case they will translate the Rajesh Kumar novel starring you into English!!!
But wait, there's more! If you give Blaft $1200, you'll get 10 paperback copies of your novel translated into English, with a special painting of your face on the front!!! How cool is that?
Check out the crowdfunding page to see these and other perks. Please help out with getting the 3rd volume of this awesome series published.