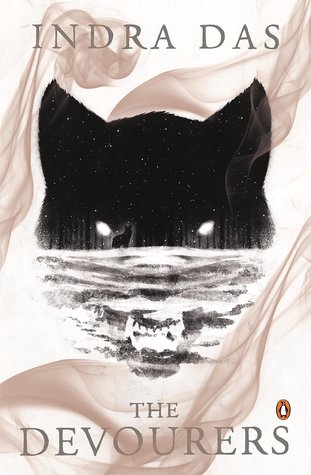 The Devourers
Indra Das
2015, Penguin India
344 pages, speculative, fantasy, historical fiction, LGBTQA+
Many thanks to Penguin India for providing a review copy of this book.
In present-day Kolkata, Alok Mukherjee, a lonely history professor, meets a man who claims to be a werewolf. Well, a half-werewolf. Intrigued by this man and his stories, Alok agrees to do some work for the stranger: he will type a transcription of the stranger's handwritten translation of some old texts. What Alok finds in those pages continues to lead him into a world that he did not know existed - a world filled with supernatural beings, shapeshifters who live in tribes in every part of the world. According to his new acquaintance and the texts he transcribes, Alok comes to know that all the myths and legends that humanity has created are descriptions of these fantastic beings who are so different from us. Through this work and his friendship with the stranger, Alok discovers the complexity and simplicity of his own needs, leading him to let go of his lonely past and move toward a happier future.
What is in the texts? There are two, written by separate authors. The first is written by a Northern European shapeshifter known as
Fenrir
, one of three who have arrived in India during the Mughal Era, probably in the late 1630s. In a
caravanserai
in
Mumtazabad, the city of the builders of the Taj Mahal
, he meets a lone woman,
Cyrah
, a wanderer of Persian origin who is currently working as a prostitute. Instead of buying her time and body, he asks only for a lock of her hair. But then he returns that night and rapes her, intending to impregnate her with his child so that he can reproduce. Having sex with a human is taboo amongst the shapeshifters, and the resulting argument ends with the three-person pack breaking up.
The second text is written by Cyrah, lovingly addressed to her child, the product of this supernatural rape. In an attempt to track down her rapist, Cyrah joins forces with
Gévaudan
, one of his former packmates. Gévaudan is much younger than Fenrir, and has his own reasons for wanting to find his old friend. Cyrah wants to punish her rapist for what he did, and, perhaps, get him to take away the child that he gave to her. If, of course, he is a
djinni
like he claimed to be.
In the visceral telling of these stories, we uncover a tale of blood and love and sex and violence, one that will stay with me for years to come. Without hesitation, I can say that this novel is one of the best works of fantasy that I have ever read. It deals with difficult discussions of violence, gender, and love with a confidence that few writers can muster, especially in a debut novel.
As of this writing, it seems that Penguin has not released this novel outside of the Indian subcontinent. I hope to see it available in the US and UK soon. It would be very disappointing to see this wonderful novel confined only to South Asian readers, when the rest of the world needs to have access to it as well.
Critique of Gender
The most powerful aspect of this novel is its nuanced critique of gender and sexuality, including violence and masculinity. While this novel discusses the concept of
masculinity
in many ways, I will only discuss one particular relationship - that between Cyrah and her rapist, Fenrir.
In a seemingly stereotypical introduction, Cyrah's story begins with her rape by a man who has complete power over her. But this is not a story in which women are considered inferior. Cyrah is not a victim; she doesn't consider herself a victim, and she will not let her rapist get away with what he did. Even knowing that Fenrir is a supernatural being and that she doesn't stand a chance against him in a fight, she chooses to go after him, to punish him in some way for treating her in this way. She is not afraid of him, or of his former companion
Gévaudan
. In fact, she insists on knowing more about who and what these strange beings are, eventually forcing
Gévaudan
to show her what he is capable of.
A strange creature among strange creatures, Fenrir believes himself to be a connoisseur of human creations, especially poetry and art. Because of these studies, he believes that he understands love. He thinks that he loves Cyrah, which is why he chooses her to be the mother of his child. This twisted version of love leads him to act like the worst kind of controlling abuser, raping her and then telling her how she should live her life. Cyrah's big revelation comes when she calls Fenrir out on these assumptions and rejects his influence in her life - or in the life of
her
child. This is one small example of how Das directly confronts ideas of masculinity and femininity in this novel.
One factual complaint
This will probably seem like a very small nit-picky detail, but it was something that bothered me. Das's description of
Bauls
is not quite representative of the people or their tradition, something that stands out because of the beautiful representations throughout the rest of the novel. Since I wrote part of my undergraduate thesis on the Bauls and their place in Bengali representations of rural life, I thought I would share some of what I know.
First, Bengali popular culture depicts Bauls as mad. This is not true. "Madness" is a way of describing their lives as wandering mendicant singers, as well as their esoteric religious rituals (most groups follow some form of
tantric
beliefs).
Second, part of the Baul scene is set when Kolkata was still a collection of villages, most likely sometime in the late 1600s. At that time, Bauls as such did not exist. Were there mendicant musicans? Of course. Were there people who practiced tantric forms of worship? Undoubtedly, especially
in Bengal where tantra was an ancient practice
. But Bauls as such (and the description here indicates that he is using the popular idea of Bauls as they are thought of today) did not exist. They hadn't been invented yet, and would really only be popularized with Lalon Das Baul in the late 1800s, 200 years after the setting of this story.
Again, I know this is a small detail, and it really has no bearing on the story itself. But I wanted to make the readers aware of the problems with the stereotypical description used here.
In the interest of reducing spoilers, I will say no more about the novel. Indeed, it was hard for me to write anything at all; everything I say seems reductive next to the majesty of Indra Das's writing and the nuanced way he brings up issues of gender, sexuality, rape, and power. All that I can say is that
you have to read this book
. I hope that Penguin will soon make it available to people who are not fortunate enough to live where it has already been released.
The Devourers is available from third parties on Amazon US, and from Amazon IN and flipkart.
Further Reading:
"
muo-ka's Child
" and "
Weep for Day
," short stories by Indrapramit (Indra) Das from Clarkesworld Magazine
"
Psychopomp
," a short story by Indrapramit (Indra) Das from Interfictions Online
Want to see more reviews of world literature and film? Follow me on Twitter or like The Globally Curious's facebook page!